Conclusions / Abstract / Summary
Let's skip all theory and jump headlong to the key question:
Q: If my antenna has a "protective earth" terminal, or just an exposed chassis ground, maybe at some mounting bolts:
Should I ground the antenna right where it is mounted? Should I avoid that? If yes ground it, then where to? Is the outside Lightning Protection System the perfect ground node for this purpose?
A: It depends :-)
Depends on your application circumstances. On your building / vessel / vehicle. On your geographical location.
Me being an inland guy with brick and mortar buildings all around, I tend to say "Almost definitely not. By default, keep your antenna away from the outside LPS!"
People with other backgrounds may vigorously disagree :-)
To some people, a hefty PE terminal on the antenna can be a blessing. To me in my typical circumstances, that same PE terminal is redundant, and possibly a trap for the unwary. Caveat, emptor :-)
Perhaps the correct advice, carefully worded might be: "the chassis of the antenna should be grounded, but not to the outside LPS. If you insist on grounding your antenna, find or implement a solid ground that is not your outside LPS. If in doubt, strive for equal potentials in your signal chain."
I will try to elaborate on that in examples throughout this howto.
In the following text, I'll try to explain things and give examples, preferably using lots of pictures.
I'll try to give credit where credit is due, and warn about ideas that are my own (and therefore require a pinch of salt).
Some places may get thicker in theory, I may even flash a formula or two - but you can always skip the more arcane bits.
While I technically do have access to the EN 62305 (Czech mutation), there's an online resource that I find more useful / richer in examples: I will refer to it as the Dehn Bible - officially the Lightning Protection Guide. And there's more - just see the references.
Fasten your seatbelts.
Lightning
Lightning is a divine natural spectacle.
Owing to modern slow-motion cameras and YouTube, we can get perspective of how the descending arc finds its way through the stormy sky.
The followinng pictures are thumbnails - click them to continue to YouTube for a video. As some of the videos are lengthy, I try to link to a particular time, where an interesting lightning develops. Obviously feel free to rewind as you see fit.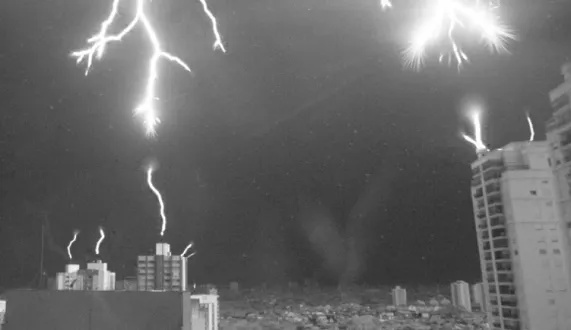 A rare close-range picture and video, showing upward leaders growing to meet the branching downward leader.
(source publication, raw slo-mo video data)
A difference of potentials worth up to hundreds of millions of Volts accumulates in the atmosphere, and finds a way though the storm clouds to discharge itself into ground, via a beautiful branching jagged arc.
The arc does not flash into existence all at once, it "crawls" at a finite velocity, or rather, takes a sequence of short jumps. This effect, apart from being visually appealing, should also help us understand some of the "best practices", tools and lore of modern Ligtning Protection System design.
In the picture and video above, it's interesting to note how the tips of the "leaders" get dragged by corona (the publication speaks in detail about "streamers" = individual "rays" in the corona). The corona seems to siphon charge from local "pockets of lower resistance", and provides enough energy (current) for the developing channel to stay ionized = conductive.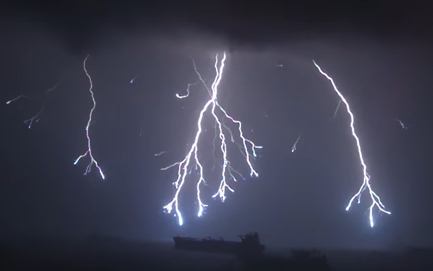 Footage by the Slow Mo Guys - thunderstorm at the sea in Singapore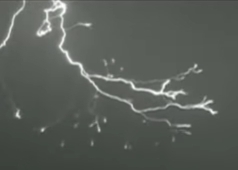 YT vid by Robert Patterson, containing a snippet of footage from National Geographic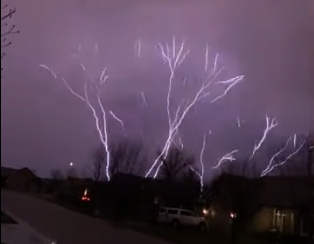 A YT short published by StoryfulNews, showing an amazing upward lightning strike in Kansas
There's more on YouTube, these are just a few examples.
Apparently, lightning bolts are typically negative and growing downward in the characteristic branching fashion, but in rare cases the atmosphere is positively charged, in that case the lightning grows upward, and consequently (?) the branching leader is not observable from the ground. Some sources just say that positive lightnings are not branching... There's a whole science and taxonomy on the topic.
Points to remember from this chapter:

Lightning crawls across the sky, finding path of least resistance in the atmospheric "soup" of rainy clouds.
The path is by no means linear. The leading channel is branching, and the lightning is in no way guaranteed to strike the highest point far and wide.
When one of the branches of the leader connects with an opposite-going upward leader, the main conductive channel thus established quickly drains the initial difference of potentials, thus typically depriving other branches of the lightning of their "steam". I.e., typically just one leader of the bunch connects to ground - this one then remains energized / ionized and drains some more energy from the clouds up above, for as long as some secondary discharges high up in the clouds keep the main channel alive by feeding it with additional energy.
Equal potentials
A key concept and component, to the integrated lightning and overvoltage protection in a building, is common ground. The outside LPS must be interconnected with the inner tree of PE distribution, at a very particular and well defined place: at the base of the building = at terrain level, by a conductor going from the outside LPS ground to the inner central PE node of the building.
As a minor, tangential and not so important side note, please mind the difference between a PE and a working return ground in the mains distribution inside a building. And yes these two are joined together as well, at the exact same inner central busbar at the base of the building. (A separate yellow-green PE does not exist outside of a building.)
The star-shaped splitting of inner ground (both PE and N = common/return) is traditionally arranged using busbars, in various sizes, shapes and forms.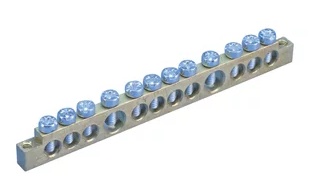 A smaller busbar by nVent
In principle, a busbar is just a metal bar with screw terminals, suitable as a central interconnect point for wires arriving and departing in various directions.
There are various sorts, either for stand-alone use, or as an internal accessory for mounting inside plastic circuit breaker boxes etc.
The word "equipotential" does not refer to a particular construction arrangement. It refers to function in the block schematic: "serving the equalization of potentials".
The "wiring" aspect of equipotential bonding is codified as part of IEC 60364-4-41 and IEC 60364-5-54. Lightning protection aspects are detailed in IEC/EN 62305-3 (external protection) and 62305-4 (internal protection).
Equal potentials of the Protective Earth, i.e. a common reference ground, is a key concept in surge protection. The systemic protection approach hinges on this.
Equal potentials for every exposed earth inside the house.
Only connected to the outside LPS ground at about the terrain level.
Thus, if a lightning strikes the outside LPS, this one combined common ground in the basement does still jump up (due to earth resistance), but the whole house "jumps up and settles down en bloc", so that no harm (injury / fire hazard) is done to anything and anyone inside the house, as long as any outgoing/incoming wiring is "clamped" by surge-arrestors to this single PE potential within the house.
Imagine a small house, with two down-conductors, 10m each, made of 50 mm2 zinc-galvanized steel (iron). Combined, that's about 10 milliOhms from the tip of the lightning rod to the earth termination system's attachment clamp.
If I recall correctly some comments from an inspector at our premises the other day, such a value would be a miracle, unless all the joints are welded. But let's take this optimistic value. Ignoring inductance, the resistive voltage drop would be 2 kV peak for a 200 kA lightning strike.
The IEC/EN 62305 mandates minimal conductor cross-sections for the LPS, and minimal counts / maximal spacing of down-conductors along the perimeter of the building.
So much for the outside LPS, its cross-sections and materials.
Time to take a short look at the ballpark of grounding ("earth termination").
Although the Dehn Bible mentions some formulas for ballparking the earth electrode resistance for different constructions of the electrode, it's still kind of difficult to get your hands on a practical number.
In the Dehn Bible on page 128 (ish), there is a chart or two, showing values of RE for several values of earth resistivity. For ρ between 100 and 400, and a grounding conductor (electrode) buried in a length of 10 m, the resulting resistance was somewhere in double digit Ohms.
Times something like 100 kA, ho hum...
Note that this is referring to earth termination. In a building with a properly interconnected system of LPS earth and inner PE GND, and with arrestors in place, people and hardware in the building are pretty much safe. But, upon a lightning strike, the earth resistance translates into a gradient of voltage in soil around the building (earth termination) which can be dangerous. This is called a step or stride voltage.
We'll probably revisit this sub-topic briefly when debating earth termination around large buildings and in substations.
The following animated picture is a little tangential in our context.
Considering what's been said so far, guess what may arrive at the ends of the communication link between the two houses. Mind the arrestors at the signal cable's entry point into each building, and think about their role.
While the table above mostly deals with LPS design parameters that are off topic in this howto, the rows highlighted by blue background are relevant to anyone who needs to place an antenna. These values give you a clue, how far the "shade" under the air termination reaches - also known as the LPZ0b, see the next chapter.
If unsure what your LPS class is at a particular site, be careful = brace for the worse case.
Brick and mortar - my everyday general case
There is one other general concept, that I haven't mentioned yet: safe separation distance. I have kept it under wraps until this point, to demonstrate it on a more practical example.
It's exactly the requirement for "safe separation" that's in irreconcilable opposition to "grounding an antenna to the outside LPS". A nuanced explanation follows.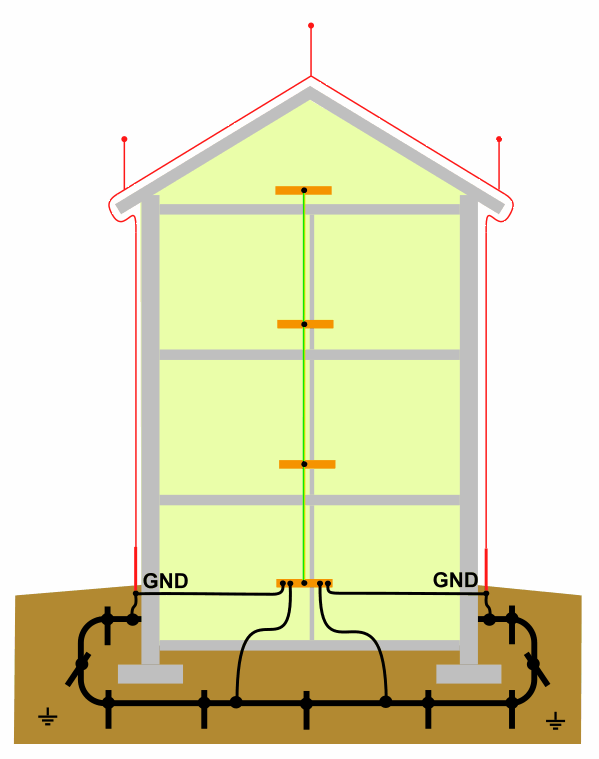 A tall brick and mortar building, including an explanation of separation distance
Q: Can I ground the antenna to the outside LPS?
A: Absolutely not! Read on for details (separation distance).
What's wrong with the antenna? Well in 2D, it doesn't heed the separation distance sketched in that same picture :-)
Which will be explained below.
Safe separation distance means, how far away from the outside LPS it is safe to place... whatever it is that needs to stay out of harm's way. Such as, an antenna on the roof, or stuff inside the building.
The point is, that the outside LPS itself becomes live during a lightning strike. The downconductors have a resistance, which means that gentlemen Ohm and Kirchhoff attend the party thrown by Mr. Ampere, giving rise to some ugly Volts as a product of the lightning current. Worse yet, the LPS also has an own inductance, which means that Mr. Henry tends to steal center stage for a few microseconds right at the start, where he merrily launches the unpopular Mr. Volta through the ceiling... producing an ugly voltage pulse, corresponding to the leading edge of the lightning current, where the Δi/Δt is the steepest.
The canonical/codified formula to calculate safe separation distance seems largely "empirical".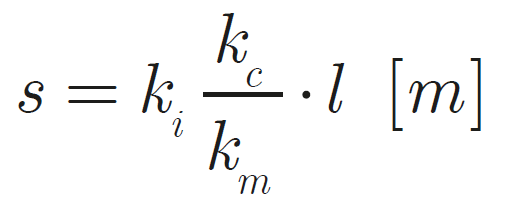 It incorporates a combination of three coefficients:

ki is derived from the LPL / LPS class (this is the inductance-related coefficient)
kc called a partitioning coefficient, depends on geometric arrangement of especially the downconductors. For large buildings, it requires some complex calculation. There's also a simplified approach, depending on the number of downconductors installed around the perimeter of the building:
1 downconductor: kc = 1
2 downconductors: kc = 0.66
3 or more: kc = 0.44
km depends on material composition. The air is easy, its km is defined to be 1 - but walls are tougher to judge. Inorganic building materials have a lower km (e.g. concrete = 0.5), resulting in greater separation required (as km is in the denominator). The Dehn Bible mentions some examples, where the aggregate km ends up somewhere between 0.4 and 0.6.
And, the variable "l" = length of the outside downconductor from the nearest common ground point, where the internal PE is branching off.
This is a key concept in a site-specific answer to the fundamental question of "can I ground the antenna outside or not".

Looking at the ballparks of the three k's, we can try estimating the approximate ballpark of the overall coefficient:
10 cm of separation distance per 1 m of downconductor length?
Sounds about right... I've actually seen examples where the number turns out lower, within a decimal order. Those were not examples for tall buildings, exposed radio towers on mountaintops, ships cruising high seas etc.

In the Dehn Bible, you'll find "safe separation" detailed on pages 150 - 156.

I have one other concept that I decided to show in this example: what an "earth termination" often looks like. It typically consists of metal conductors, round or flat at the cross section, buried in the earth. Typically combined (interconnected) with vertical rods rammed deeper in the earth at regular distances. Construction details get determined by a licensed design engineer and are a part of the construction project documentation.
In my practical observation, at least a loop of flat zinc-plated steel conductor (say 30x4 mm) gets buried around a family home, connected to the vertical downcondutors and inner PE.
Stainless steel is also popular - while promising in terms of longevity in the wet earth, it has significantly worse resistivity, and therefore requires a larger cross-section at the backbone of the system, compared to FeZn conductors.
New developments nowadays should have another loop of flat conductor buried in cast concrete in the foundations. This one is not to function as earth termination (concrete is not a good conductor) - rather, it serves/aids the general goal of equalization of potentials throughout the building. Obviously this "steel band in the foundations" also needs to be connected to the central PE busbar (= equipotential bonding).

In the context of the example brick-and-mortar building, the choice of the equipotential bonding interconnection point is hopefully obvious: the node "at the earth termination terminal" will be free of the LPS downconductor's own resistance and inductance (in the path of the lightning current) and will be just the realistic potential where to "equipotentialize" the building as a whole, relative to the background earth potential.

While brick-and-mortar buildings typically have the central PE busbar and equipotential bonding interconnect at the base, other building constructions or industrial structures may use a massive steel skeleton or body as a natural down-conductor with negligible resistance per meter, which turns such a metal body into a near ideal protective earth wherever you need it. But, caveat, you should ground your outside antenna (etc) preferably straight to the massive body - not to dedicated LPS air termination components, or other outside metal structures that can be suspected of having a contact resistance to the building body (and are at risk of a direct hit = reaching outside of the LPZ0b).
Note that this last paragraph about building construction is my own lay man fabulation, you need to verify this on your own. Maybe more importantly, different buildings (or vehicles, or industrial structures) have different constructions, different applicable legislation, different internal safety guidelines, different recommended grounding styles. When approaching a particular location, with an intention to install an antenna, ask around - contact someone in the know or in authority to tell you how things are done and how they shall be done.
Informally, during preparation / a personal survey of the site, look around how others at the site handle lightning protection. Chances are, that they know what they're doing - especially on radio towers or ship masts. Then again, beware that modern-day carrier-grade outdoor radio technologies are transitioning to fiber optical cable for signal transmission. The traditional coax downlink is getting rare. Don't be fooled by absence of arrestors on fiber-optical cables :-)

Some sources suggest, that reinforcement steel in the concrete of modern developments (new buildings) should also be equipotentially interconnected, and some seem to go as far as suggest, that these can be used as a plausible quality natural lightning conductor.
Personally, I am very skeptical about this. As far as I know, for the general case, the meticulously spaced rebar in reinforced concrete is not strictly welded together, by default it is just tied together by snippets of twisted wire, not to collapse or get displaced during casting of the concrete. After the concrete crystalizes ("cures"), structural rigidity / coupling is typically achieved mostly based on the criss-crossing and overlaps of rebar in the concrete monolith. While it is possible to measure resistance at any time, the rebar inside monolithic reinforced concrete is no longer accessible for visual inspection of continuity. How this mixes with the requirement for regular inspections of the LPS, I don't know. How safe a bet it would be, that this electrically loose mesh of wire-wound rebar in cast concrete would work as a reliable natural down-conductor... I don't know. On the contrary, I can imagine how a lightning current that has found a path through the loose rebar mesh can make concrete explode in places, thus putting the very structural integrity of the building in jeopardy.
So unless the building has a solid steel "skeleton" designed that way, and preferably accessible for visual inspection, I would default to treating "monolithic reinforced concrete" as a general "brick and mortar".
It is true that manufacturers such as Dehn make certified fixtures that can be used as "surface terminals" for deterministic access to the natural ground conductor comprised of the interlinked rebar in cast concrete.
I cannot exclude that it's possible to use rebar in monolithic concrete as a natural lightning conductor, provided that the construction is designed that way, that the rebar assembly team is tightly supervised during construction, so that redundant key sweet spots get reliably welded together, and this is documented day by day, node after node, for the purposes of later LPS inspections...
Still, how this fits together with the general goal, to avoid resistive build-up of voltage along the lightning conductor path... To avoid any concerns about Mr. Kirchhoff playing hide and seek in the rebar mesh upon a lightning strike, the mesh would have to comprise a really thorough Faraday cage. Sounds... too good to be true?
A skyscraper
This skyscraper example is a product of my sheer imagination. Feedback welcome.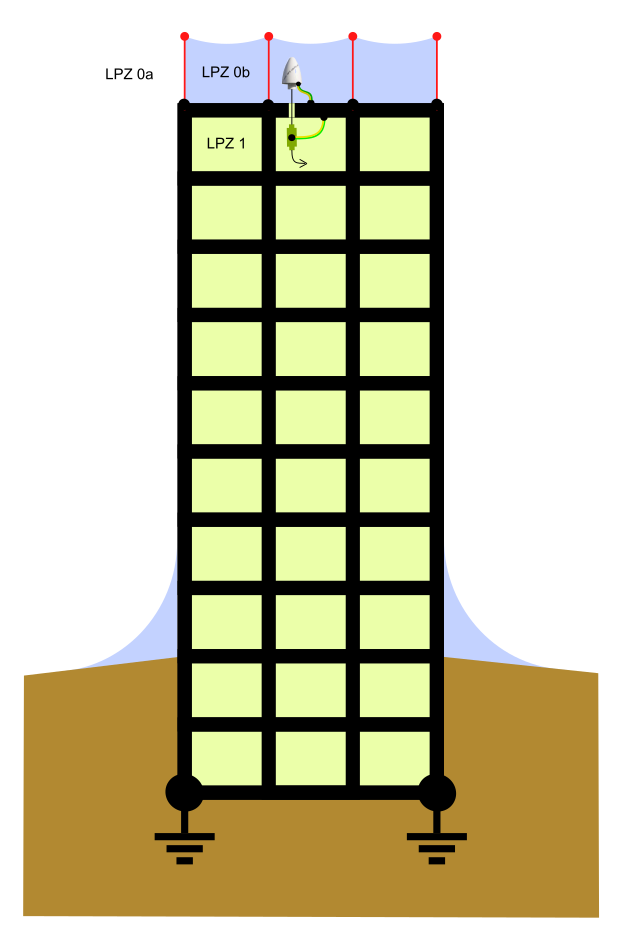 A skyscraper with a thorough steel skeleton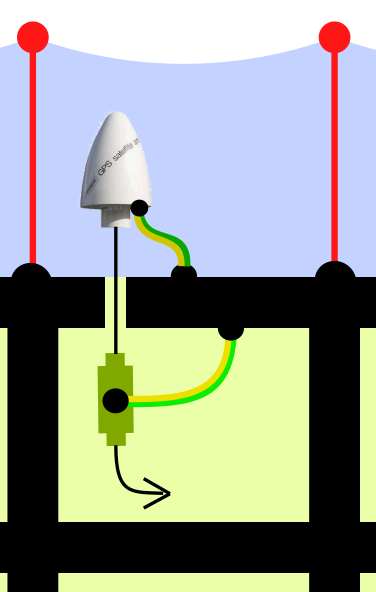 A skyscraper - detail
Q: Can I ground the antenna to the outside LPS?
A: Not to the LPS! Do not ground the antenna to anything that serves the primary purpose of attracting and conducting lightning.
If you're absolutely sure, that the building has an inherent and massive natural ground, also serving as a local ad hoc Protective Earth, it is probably safe to use that - but, avoid connecting to outside hardware that is specific to the LPS.
If unsure about the grounding and LPS arrangement of the building, try to keep at least some level of isolation/separation of the antenna from any existing outdoor metal, which is likely connected to the outside LPS.
Suppose that the classic skyscrapers with a welded or riveted steel skeleton can easily conduct lightning strikes through that skeleton without breaking a sweat.
I know for a fact, that getting an antenna placed on the rooftop of such buildings is "difficult to achieve", in terms of getting approval. But suppose that somehow this is not an issue to you, either.
Suppose the building has suitable "earth terminals" on the rooftop, exposing the earth of the humungous steel skeleton of the building. That's where I would dare to earth surge arrestors. I would expect there to be a "building entrance wiring cabinet for signal cabling", where all the surge arrestors could be co-located in a rain-proof environment and properly earthed, to a terminal or busbar prepared for this particular purpose. I've actually seen one such box on one local highrise.
Try to find out (ask around), how inner PE in any possible "datacenter rooms" near the rooftop are created. Where is the equipotential bonding point, relative to the steel skeleton of the building, where the local PE branches off. This bit of information is key to subsequent conclusions about "safe separation distance" about the place.
I'd hazard a guess, that it wouldn't make much sense, if your antenna is on an "antenna mast" a couple (dozen) meters above the roof / top deck, to bring your very own earth conductor all the way to the antenna. At the same time, I would not quite dare to ground the antenna to a mast that also serves as a natural air termination + ownconductor - unless the cross-section of the mast would be reassuring, and it would be preferably welded to the building's steel skeleton. Bolted connections, while mechanically robust enough, may have contact resistance, and these high-up places are very exposed to direct lightning strikes. An antenna mast this high up is a "lightning magnet".
In general, look around, and do as others do. Improperly connected gear won't survive very long in such places.
There is one specific scenario, where antenna masts are a plausible ground: if the mast is "covered" by an isolated air terminator, erected enough above the end of the mechanical mast, and keeping safe separation, by distance of the bare parts and possibly by a layer of insulation/dielectric on the down-conductor cable. Another condition is, that the mast must be grounded to a plausible "inner" PE. Such as, independently of the LPS, to the massive metal skeleton of the building.
For more inspiration, there's another chapter below, trying to focus on various problematic scenarios - its very first example demonstrates this setup, albeit on a small "brick and mortar" house. By geometric dimensions, a small family home is fairly comparable to an antenna mast on a highrise (using the building's masive skeleton as a GND reference).
In general, true highrise buildings tend not to have outside lightning downconductors. Even for mundane buildings such as individual family homes, there are dedicated components to build a downconductor hidden behind the surface of the facade. And, there's probably a way to arrange this inconspicuously using structural components of the outer shell of modern highrise buildings clad in glass. In any case, the outer surfaces of a highrise (above rolling sphere radius) have to be protected by "air termination" of some sort, as the space outside the building is LPZ0a.
While synthesizing this skyscraper chapter ouf ot thin air, I've tried googling a bit (1|2) on the topic. Which has yielded two somewhat interesting finds:

a YouTube video, where the speaker explains how safe separation distance is a problem in highrise buildings, if conventional downconductors around the perimeter would be considered = and recommending natural downconductors integral to the building's structure, as a solution. Provides some serious food for thought, about IEC 62305 vs. highrise buildings. (The same video mentions some cute real-world problems faced by the designers in actual customer scenarios, at round 1:00:06.)
a conference paper, focusing on the behavior of a glass facade (its metal support structure) upon a lightning strike, depending on the availability of a mesh of natural downconductors in the skeleton of the building.
I haven't found anything about the classic skyscrapers that stand hundreds of meters tall. But, clearly their builders must have their own idea, how to go about lightning downconductors and air termination. Any feedback/insight on this would be warmly welcome.
From the perspective of IEC62305: it is possible to use isolated downconducting paths, using high-volt cables with a thick layer of dielectric. But, making the downconductors separate from the building, with a bonding node at the base, would only exagerrate the safe separation problem. Such a downlink's upper terminal above the rooftop would need dozens of meters of separation, and would not provide cover for the surfaces of the side walls of the building. Noone has ever built a skyscraper wearing a sort of a hat with a funeral veil (mesh) around the top.
I've found several sources claiming that buildings above 60 meters of height (about 20 floors in my small-town circumstances) must have their upper floors protected against direct sideways strikes, which is perfectly consistent with the rolling sphere model (maybe even diluting it a bit).
Actually the kc constant in the safe separation formula seems to provide a "way of reconciliation" of IEC62305 with tall buildings, and what the practitioners seem to suggest: you need a dense enough mesh protecting the surface of a tall building, and a good quality natural downconductor mesh in the building's skeleton, the two of them interlinked. An imperfect step in this direction would be an outside surface mesh, i.e. with downconductors interlinked by "rings" e.g. at every floor level (also mentioned by some sources). The system needs to provide surface coverage, and relatively very low resistance across the enormous height of the building, and, anti-inductance measures = parallel wiring of downconductors around the perimeter and inside.
The inductance aspect is important. E.g., a single downconductor at the center of the building would not be a very good idea, as it would not provide good cover at the perimeter, and its single path of the pulse current would create a perfect concentration of magnetic field inside the center of the building, where power and signal cabling and pipe networks of all sorts are concentrated, including elevator shafts for instance. A robust mesh, spreading the current, would spread the magnetic field, and would minimize top-to-bottom resistance. Break down Mr. Kirchhoff and Mr. Henry into a pile of equal and small finite elements.
Still, interestingly to me, there are numerous sketches on the web, suggesting a classic setup with multiple downconductors, not even horizontally interlinked, on a highrise, with a single equipotential bonding node at the base - yet the resulting problem with safe separation is not mentioned.
To me, this is another proof that the IEC/EN 62305 can be a pain in many different scenarios, where it deprecates legacy practices :-)
Where I live, just as I'm typing this text, I have a view out of my window, of some rooftops on neighboring buildings: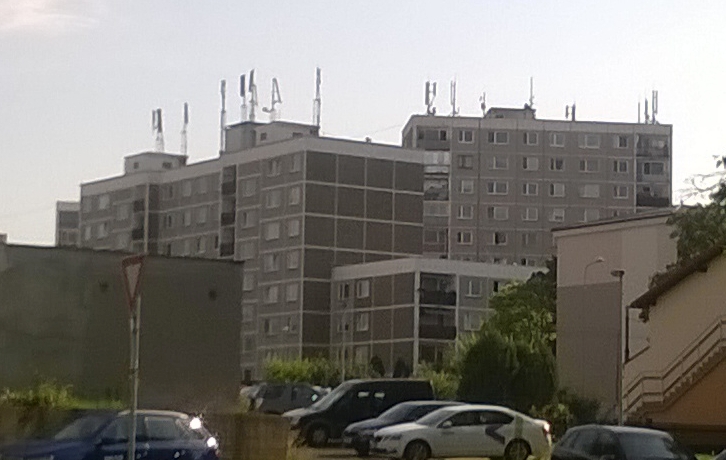 Note how the LTE "antennas" (outdoor units) are mounted on additional masts. As far as I can tell, only on the tallest building, the masts have an extra "air termination extension" - a piece of rod, directly attached to the mast, the rod reaching about 1 m above the upper end of the antenna "cigars". The LPS air termination and downconductors are unlikely of the isolated/distanced persuasion.
I am told that 4G (LTE) outdoor units use fiber optic for their data link to the base station. Thus, the outdoor unit only needs metallic cabling for power supply, which is relatively easy to protect by arrestors.
I haven't been on those rooftops, I don't know details, all I know is that this particular block of buildings, the tallest in the neighborhood, regularly score a hit during every self-respecting thunderstorm passing across our city.
I've tried to find something about the legacy/original reference solution of LPS on these buildings. There have been several generations during maybe 2 decades... Google finds mostly complaints from people who need to address the LPS during a reconstruction, or when adding something on the roof, only to find that the legacy LPS is either not certifiable to IEC/EN 62305, or just plain broken / defunct even by the previous standards, and difficult to revamp to pass contemporary inspection.
On the outside, I can see that some of buildings of this type are missing external downconductors. I've found notes that "natural" downconductor construction is an option (using rebar, elevator shaft rails and whatnot), that this type of LPS design can be used during a reconstruction (it is one way to satisfy the EN62305), that it may require vertical pipelines in their shafts deep inside the buildings to be refurbed to make them nominally capable of conducting lightning currents...
Either that, or the building may have just one or two legacy external downconductors that I have missed while casually walking around.
As for rebar, these commie-era buildings were assembled on site out of flat prefabricated panels of reinforced concrete, and the panels had rebar eyes for crane hooks and specific "rebar-attached steel interfaces" for welding the panels together on site. I don't have further details, but chances are, that the "faraday cage of rebar" can indeed turn out to be half decent.
And then I've found a reference project in PDF, from a local branch office of Dehn, for this general type of panel buildings. The Dehn design proposes using HV-isolated downconductors around the perimeter, obviously to reduce the "safe separation distance" required - and air termination is only constructed above the roof, safely separated by plastic (fiberglass?) vertical spacers. My impression: this way of tackling the "safe separation distance" on the perimeter walls is obviously also correct, and permitted by the fact, that these buildings normally didn't exceed 40-45 m of height, so that sideways air termination (protection of perimeter walls) is not required.
A tower of steel
This scenario is very real, but in terms of practical experience, once again I'm fabulating. I can give examples of such buildings/structures, but I cannot claim practical experience. I've never visited the upper decks of any such tower - because I'm not in that business, and also because my self-preservation instinct would strictly prevent me :-)
Thus, all I have is a limited amount of word of mouth, from existing customers. And, I have the IEC62305.
The key assumption of the sketches in this chapter is, that the whole tower is a steel "monolith".
In reality, this is often true about smaller towers, and even these will likely be bolted together from smaller sections.
The largest transmitter towers tend to have a bottom part of the tube made of reinforced concrete, followed by a steel tube extension, possibly with a plastic radome forming the top section.
Whatever the details of the construction, this is the sort of a building where grounds are in good shape, the steel tube section is an ideal natural down-conductor for the LPS, and techie people taking care of the place likely know where the surge arrestors are to be placed (I am told the place may be ugly / difficult to access).
Q: Can I ground the antenna to the outside LPS?
A: Not to the LPS! Do not ground the antenna to anything that serves the primary purpose of attracting and conducting lightning, even if it's "equipotentially bonded" a few meters away to the massive steel body.
It is relatively likely, that any massive steel construction in a radio tower will be well grounded, and used to branch off a local PE where needed. While you probably won't be allowed to weld your own nut/terminal to the steel body of the tower at any point of your choice, probably, around antenna masts / mounting places, protective earth terminals should be available, or the local mast itself will be covered against a direct strike by "dedicated air termination". Depending on how well the tower is managed anyway. Typically, antennas tend to sprawl at such places during the years, and the exponential grassroots growth may pose "challenges" to site management...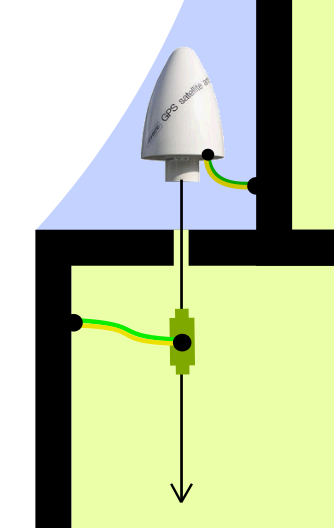 A tower - detail 1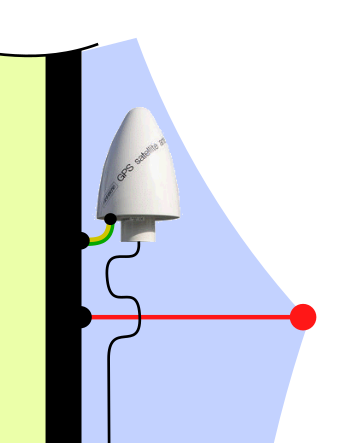 A tower - detail 2

I've promised some word of mouth... an old practitioner has mentioned to me, decades ago, that at such locations (towers), a single coaxial arrestor was not enough. Two of them in a cascade were allright. One "at the top" near the antenna, another one "at the bottom" = at the boundary/entrance from LPZ0 to LPZ1. Both arrestors were the direct-earthed variety. Where did he ground the upper arrestor? That's probably anyone's guess... but it would be a good spot to ground the antenna, if it has the option.

The
To close the chapter on a light note, let me add a few photoes of some existing large TV transmitter towers in the region.
I haven't tried to make the collection of photoes more diverse, yet I'm sure that the spectrum of sizes, shapes and constructions of radio towers is probably vast.
A ship
And again I will be fabulating. Being a citizen of a landlocked country, I have to think hard to remember the times when I boarded a boat, let alone a ship... possibly a ferry from Rostock to Trelleborg would count?
In this chapter, I will suppose that serious ships of different classes and purposes, ultimately, feature a body welded together out of sheet steel. Everything from the hull up, through the upper decks, the bridge / wheelroom, perhaps including the radar mast (?), can be relied on to be massive and firmly welded together.
Based on that, I further presume that a solid ground is available "virtually anywhere" - even if you don't dare to ask permission to weld your own PE terminal to her body anywhere you like, you will likely find suitable existing PE terminals or PE busbars at places where they tend to be needed.
If that's the case on the radar mast, than that's the case. I have no clue.
The fact that the seawater under your hull is the best possible "earth" you can ask for, that's just a cherry on top of the pie, and not very relevant TBH.
So starting from that overall "architecture", I dare suggest the following approach:
So much for an overview picture.
Our antenna is comparatively so small, that it doesn't seem fruitful to me, to attempt a simplified sketch at this resolution.
Let's zoom in on the upper decks and the bridge:
As you can see, my sketch is still heavily "schematicized" - I don't intend to reconstruct a realistic section through the interior of a bridge or "Computer/DC deck" or whatever its name actually is.
I will zoom in one more time, for those of us whose eyesight is no longer razor sharp (mine is definitely not). I hope you get the idea...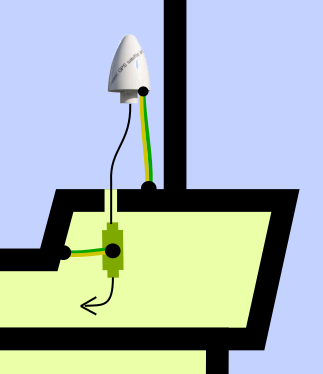 A ship - detail

Q: Can I ground the antenna to the outside LPS?
A: Not to the LPS! Do not ground the antenna to anything that serves the primary purpose of attracting and conducting lightning, even if it's "equipotentially bonded" a few meters away to the massive steel body.
Other than that, if the "massive body of welded steel" is true, you can probably ground your arrestors and your antenna pretty much anywhere suitable. Anywhere where you don't inherit some contact resistances shared with the path of the potential lightning current.

No photoes in this chapter - no suitable objects in my area :-)

I'm wondering if there are any marine electricity/safety norms that would have a say in this scenario. Talkback welcome.

The
To have the simulation produce "nice" output, I specified L1 = L2 = 10 uH and a coupling coefficiet k = 0.4 - as can be seen in the schematic screenshots.
Loop area
Now... is the exercise above, with straight wires, any use, after all? Is this relevant to our practical scenarios? Do we really care about the difference of potentials, at two ends of a wire, that are many meters apart?
In our practical circumstances, in a building, we are most likely to encounter a loop.
In terms of EMI induction, a loop that's equal to a proper turn of a coil.
We will be concerned about a voltage differential between two different wires or cables, arriving from two different directions to a particular common location. Typically, at the antenna input of a radio receiver, where we have a local Protective Earth, and a coax downlink will arrive from somewhere up there upstairs, where the coax shield has contact to another branch of the PE tree. This is our scenario - not a straight wire, but loop area.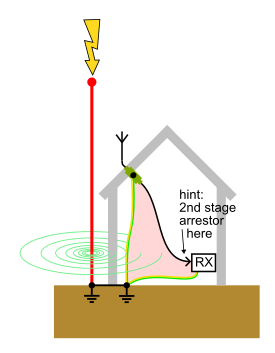 The Dehn Bible actually mentions this scenario on page 21. It also quotes a conveniently simple and straightforward formula, making direct use of the "mutual inductance" (M):

Arguably, it can hardly get any simpler than that :-) Probably the best clarification of what the mutual inductance is good for.
On the same page 21 with the formula, the Dehn Bible has a convenient nomogram, giving you the values of M for various geometrical arrangements of the LPS downconductor (straight wire) and an arbitrarily placed wire loop.
In various low-profile websites I have observed a corresponding formula along these lines: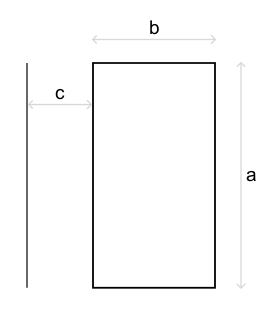 That seems even simpler than Rosa+Grover.
All the formulas in this chapter are in SI units, BTW = meters, Henrys, Volts, Ampers, seconds.
A secondary loop taking energy from a primary wire has one interesting property: the turns ratio is greater than one. This setup transforms voltage up.
The Dehn Bible on page 21 also has an example calculation, where the voltage levels seem to come out correspondingly higher than my guesstimate above for parallel wires.
| | |
| --- | --- |
| Page | topic |
| 15 | Chapter 2: what is lightning |
| 20 | Gradient of voltage in earth, depending on distance from the point of lightning strike |
| 21 | Induced voltage in conductors (loops) in the vicinity of a lightning path |
| 34 | Flash density stats in Germany (a map) |
| 54 | Kirchhoff's Law, demonstrated on the outside lightning downconductor network (mesh) |
| 64 | LPS architecture (the Parthenon picture) |
| 64-68 | Rolling sphere (dimensioning criteria on page 25 and 90 too, including mesh size) |
| 69-71 | Cone model |
| 73 | Sheet metal thickness preventing puncture |
| 75 | Isolated (separated) air termination rod |
| 95 | Downconductors - spacing |
| 97 | Downconductors - maximum temperature rise, based on material and cross-section |
| 104 | High-volt isolated downconductors |
| 119 | Step/stride voltage gradient in earth |
| 122 | Resistivity values for different soil types / geology |
| 128 | Earth resistance examples based on soil types and termination length |
| 122-129 | Earth resistance and resistivity, in general |
| 149 | Dimensioning of earth electrodes |
| 150-156 | Separation distance (the reference on page 102 is related to HVI conductors) |
| 178 | Equipotential bonding at the base of the building |
| 187+ | Protection of electronic systems, LPZ, 62305-4: chapter 7 starting on page 187 |
| 199 | Avoiding GND loops between buildings |
| 292 | Minimal parameters and practical construction of earth electrodes |
| 293-295 | Example: Antenna on a roof, with an isolated/separated "air termination", and arrestors grounded inside |
| 345-349 | Example: LPZones on a wind turbine |
| 358 | Example: LTE radio tower |
| 371 | Rolling sphere method versus protective angle method for determining the protected volume (the bottom picture) |
| 452+ | Yachts |
Vladimir Brok
Where I work, Vladimir Brok has been our supplier of surge arrestors, on and off for the last two decades or so. Born in 1945, he graduated as a Dippl.-Ing. of RF/transmitter technology, then spent some two decades working in govt-run high-Volt test labs, followed by three decades freelancing as a maker of surge arrestors for signal transmission lines of various sorts (winding up the business for good, just about now). He has spent many hours with me in spoken conversations and e-mail exchanges, educating me about the principles of arrestor design and application-side best practices.
My favourite quote from him:
"If it gives a loud snap, a flash and a puff of smoke, it means that the test has been carried out :-)"
A forum conversation about grounding
Regarding the substation grounding grid, I've been pointed to this by a friendly commentard in a benign forum on... system administration :-)
Apologies to my global audience, the linked text is in Czech.
The nick M D is not unknown to me in real life - a seasoned practitioner in substation automation, well versed in the High-Volt side of things and in industrial IT+networking. In that IT forum, upon my off-topic troll prompt ;-) he didn't hesitate to initiate me and the rest of the audience. He started by explaining various things relatively on topic, quoting from the IEC\EN 62305, and upon my prompt, went on to refer me to some intra-corporate norms of our domestic utility companies in the high-volt business...
Etc.
I recall several other fleeting conversations with people I met on random occasions during the years:
Jiri Janda sr. of JJJ-sat, who used to sell and install TV+SAT gear back during the nineties...
Several people in the electric power transmission and distribution companies (our customers at FCCPS)...
Electricity inspection engineers who come regularly to give us training...
Etc.
---
This scribble by: Frank Rysanek (rysanek [AT] fccps [dot] cz) (8/2023)